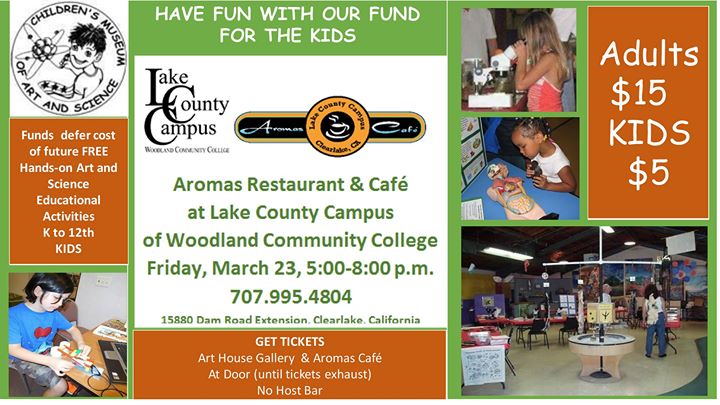 CMAS Aromas Cafe Annual Fundraiser
There is not anything more fun than by attending events that FUND. Especially when it is for our community. HAVE FUN WITH OUR FUND. Come join the Children's Museum of Art and Science on March 23rd 5pm to 8pm at Woodland College Aroma's Café Annual Fundraiser.
The Culinary Club students are to prepare a fantastic, fun, feasted gourmet style PASTA FEED accompanied with the Baking Students Signature Brownies. Including entertainment by one of our local musicians, all for $15 for adults and $5 for children. Tickets are at the door. Please RSVP by stopping by the Art House and Aroma's Café to purchase a ticket. Tickets are available until we run out.
This event will raise funds to defer the cost of future plans for spring and summer community Hands-on Art and Science Educational Activities for children and families in Lake County.
We will have a raffle of gift items. If there are gift items you would like to donate please bring item to the Clearlake Art House Gallery.
An exciting event is planned for May 12th at the Clearlake Community Center where the Lawrence Hall of Science of Berkeley will visit Clearlake and set up a Mystery Festival program. This program combines the solving of a mystery and hands-on scientific investigation in a highly engaging educational activity. As students use scientific tests to unravel a fake crime, they will be exposed to a variety of forensic techniques. Any one of these tests is interesting and educational alone; together, they add up to a powerful and motivating experience students will remember for years.
It is through generosity like yours that we are able to fulfill our mission to bring free hands-on art and science experiences to the youth and families of Lake County. We want to thank you for the help to make sure we have free art and science education for Lake County.
Please RSVP by stopping by the Art House and Aroma's Café to purchase a ticket. Tickets are available until we run out.
Donated raffle items can be dropped off at the Art House Gallery.
Contributions are excepted please mail to: CMAS, PO Box 2634, Clearlake CA 95422. Tax ID #20-1378010